Americinn By Wyndham Wahpeton
46.2888488769531

,

-96.6209411621094
Wahpeton

,

United States

|
115US$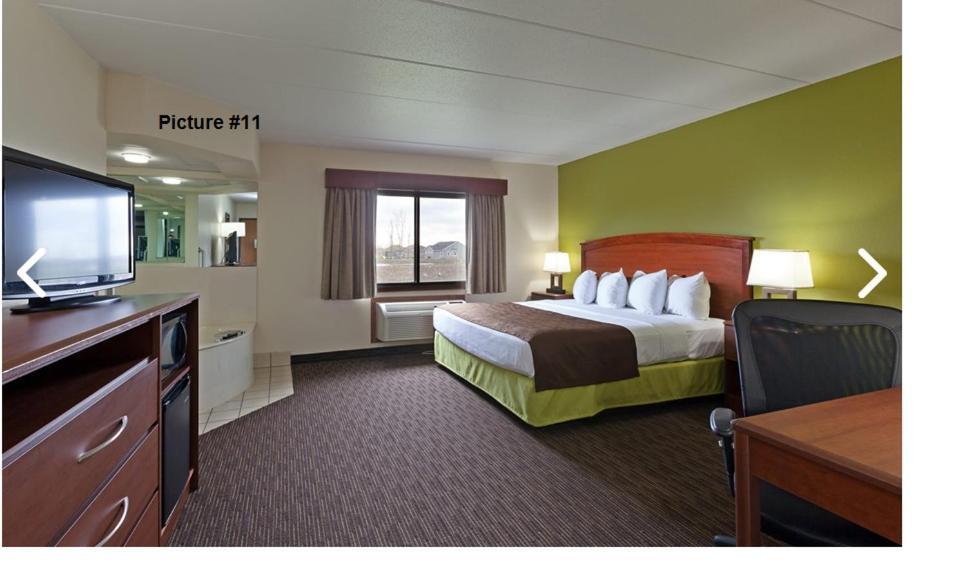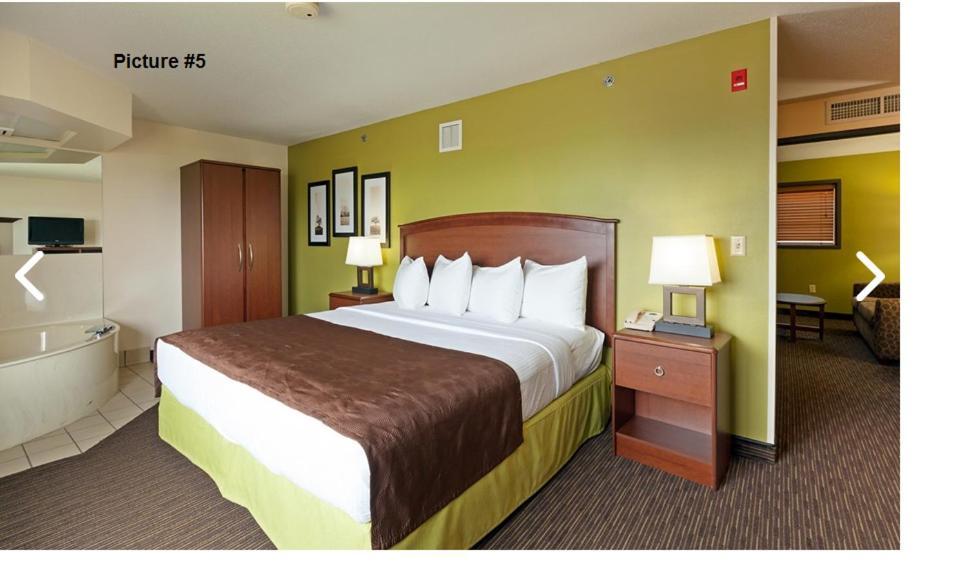 Address
2029 Two Ten Drive
,
Wahpeton
,
North Dakota
,
United States
,
58075
,North Dakota
Pros and Cons
PROS
Located in a nice quiet area of Wahpeton.
3 km from the downtown of Wahpeton.
Small venue.
Beautiful lobby.
Show all Pros (7)
Show less
Overview
Americinn By Wyndham Wahpeton is rated 3 stars and comprises 45 rooms with homely comforts.
Location
The center of Wahpeton can be reached within 30 minutes' walk of this hotel. Fargo is 50 minutes' drive from the Wahpeton hotel. This Wahpeton hotel is located a few minutes drive from Fergus Falls.
The property is set near a highway. Hector International airport is 63 miles from the hotel.
Rooms
Some rooms provide a coffeemaker as well as a flat-screen TV to help you enjoy your stay. Private bathrooms include nice touches like free toiletries.
Eat & Drink
The Americinn By Wyndham offers a free buffet breakfast with bacon, coffee and eggs.
Leisure & Business
This Wahpeton property features a Spa for guests to relax in.
Internet
Wireless internet is available in the entire hotel for free.
Guest Parking
Public parking is possible on site for free.
Year renovated:   2010.  Number of rooms:   45.
Former name: americinn lodge and suites - wahpeton
Best-Rated AmericInn Hotels around Wahpeton
AmericInn hotel brand offers exceptional value to its guests with its wide range of amenities and comfortable accommodations. From complimentary breakfast and indoor pools to high-speed internet, guests can enjoy a convenient and luxurious stay. Their commitment to customer satisfaction is evident in their friendly and attentive staff who always go the extra mile to ensure a pleasant stay. AmericInn is the destination of choice for budget-conscious travelers who demand top-notch amenities and service.
27 reviews

185$ / night

51 reviews

104$ / night

15 reviews

130$ / night

15 reviews

134$ / night

18 reviews

109$ / night

41 reviews

120$ / night

219$ / night

40 reviews

99$ / night
Facilities
Most popular facilities
24-hour services
24-hour reception
24-hour security
Spa and relaxation
Jacuzzi
Spa & wellness center
General
Wi-Fi
Parking
24-hour services
Swimming pool
Spa and relaxation
TV
Kitchen facilities
Services
Room service
Housekeeping
Wake up service
Business
Business center
Meeting/ Banquet facilities
Fax/Photocopying
Spa & Leisure
Indoor swimming pool
Spa & wellness center
Jacuzzi
Room features
Air conditioning
Heating
Soundproofed rooms
Ironing facilities
Media
Flat-screen TV
AM/FM alarm clock
Good to know
Check-in
from 15:00-23:59
FREE
Check-out
until 11 am
FREE
Pets
Pets are not allowed.
Rooms and availability

Bed options:

1 Queen-size bed

2 Queen-size beds

Max:

4 persons
Queen Room Mobility accessible

Bed options:

Max:

2 persons

Bed options:

Max:

4 persons
Location
2029 Two Ten Drive
,
Wahpeton
,
North Dakota
,
United States
,
58075
,North Dakota
City landmarks
Nearby
Restaurants
Hotels nearby
Wahpeton Recreation Dept
5300 ft
Theatre
NDSCS Cultural Center
1.3 mi
North Dakota State Clg-Science
1.3 mi
Golf Course
Bois De Sioux Golf Course
1.4 mi
Richland County Historical Soc
1.5 mi
Gallery
Red Door Art Gallery
1.9 mi
Breckenridge Park and Forestry
2.1 mi
Breckenridge 6 Theatre
2.3 mi
Public Building
Wilkin County Family Services
2.3 mi
Wilkin County Museum
2.4 mi
8095 182nd Ave SE Riverside Cemetery
Ringling Brothers Circus Monument
3.6 mi
Restaurant
Hills 210 Cafe and Subs
2700 ft
Getting around
Airports
Hector International

(FAR)
60.2 mi
You can book a shuttle, once your reservation is complete.
Essential information about Americinn By Wyndham Wahpeton
| | |
| --- | --- |
| 💵 Lowest price | 115 US$ |
| 📏 Distance to center | 1.8 mi |
| 🗺️ Location rating | 10.0 |
| ✈️ Distance to airport | 60.2 mi |
| 🧳 Nearest airport | Hector International, FAR |
Reviews of Americinn By Wyndham Wahpeton
Andrew

Fantastic service and attention to detail. The staff went above and beyond to ensure our satisfaction. They even provided all the requested amenities during our stay. From the warm, freshly baked cookies to the delicious breakfast spread, we were truly spoiled. The room was clean, comfortable, and quiet, allowing us to relax after a long day. Despite a minor issue with the bathtub mat, everything else was in great condition. The pool and hot tub were clean and well-maintained, offering a relaxing experience. I highly recommend this hotel for a pleasant stay in Wahpeton.

Scott

Wonderful front desk individuals. Thoughful and considerate staff. Excellent service and accommodation. Yummy fresh baked cookies. Relaxing room and pool area

Nothing, all excellent.

Robert

The value for money was great, and the room was cozy and relaxing. The location was convenient, and the staff at the front desk were incredibly helpful and welcoming.

The morning meal could have been improved with a wider variety of options.

Kieran

This hotel definitely exceeded my expectations. Firstly, the value for money was outstanding. The prices were very reasonable considering the quality of the stay. Secondly, the attention to detail throughout the hotel was commendable. Everything from the lobby to the rooms had a well-maintained and stylish aesthetic. Additionally, the staff was incredibly friendly and provided excellent service. They were attentive to our needs and went above and beyond to make sure we had a comfortable stay. Lastly, the basic amenities offered by the hotel were top-notch. The rooms were spacious and had a jacuzzi which was a delightful surprise. Furthermore, the breakfast included was scrumptious and had a variety of options to choose from.

everything was great!

Daniel

Spent New Year's at a hotel with great complementary breakfast and afternoon cookies. It was conveniently located just off the highway and my room was surprisingly quiet. The free pool was a nice size which gave me a chance to swim and exercise while I was there.

The pool area seemed to be in pretty bad shape after what looked like a teenage party. The hot tubs weren't working so well and the area just didn't look as immaculate as it did when I arrived.

Tom

We had a fantastic stay at this hotel. The front desk individuals were wonderful - thoughtful, considerate, and helpful. They provided anything we requested during our stay. The hotel facilities were clean and the pool area was very relaxing. The fresh baked cookies were tasty and the breakfast was more than adequate considering the current situation. We were very satisfied with the staff, cleanliness, hotel facilities, and breakfast.

Nothing that we didn't like.

Philip

Our weekend stay was enjoyable with pleasant staff, clean and spacious rooms with comfortable beds, and a great hot tub in the king suite. The breakfast included provided easy access to fuel up for the day. The pool and hot tub were well maintained facilities that were relaxing.

The room was not cleaned during our two-night stay and we had to request additional towels.

Walter

The location of the hotel is convenient with a large, clean, and well-lit parking lot. The rooms are spacious, quiet, and mostly clean. The breakfast offers a nice variety of hot and cold options. The staff is friendly and provides great service. The pool area is nice and includes a small hot tub. The hotel also provides hand sanitizer, Kleenex, and lotion at the front desk.

Some rooms may have minor cleanliness issues such as stained sheets and unknown substances on the bed.

David

I recently had a great stay at this hotel in Wahpeton. From the moment I walked in, I was impressed by the attention to detail. The front desk had hand sanitizer, Kleenex, and lotion readily available - a thoughtful gesture, especially during these times. The hotel itself was clean, both inside and out, and the parking lot was spacious and well-lit.

my experience at this hotel was fantastic. I couldn't find any aspect that needed improvement.

G.

The rooms were spacious and quiet, even though they were located right off the highway. I had no noise problems at all. The breakfast offered a nice mix of hot and cold options, and there were even cookies available in the afternoon. The pool area looked nice, with a good-sized pool and a small hot tub. The staff were very friendly and provided great service throughout my stay.

Kevin

We really enjoyed our stay at this hotel. Best aspects were the cleanliness, hotel facilities, breakfast, and staff. The room was spotless, and the pool area was very relaxing. The breakfast had a variety of options catered to all dietary needs, and the staff was friendly and accommodating. we had a great experience.

All good.
FAQ about Americinn By Wyndham Wahpeton
Which landmarks should we visit during our stay at the Americinn By Wyndham Wahpeton?
Top-rated landmarks in Wahpeton include the 29-acre Chahinkapa Zoo as well as Chahinkapa Park, placed within 1.5 miles and 1.6 miles from the Americinn By Wyndham Wahpeton respectively. Breckenridge 6 Theatre (2.3 miles) is also worth a visit.
How much does a room at the Americinn By Wyndham Wahpeton cost?
The price for a room in the Americinn By Wyndham Wahpeton starts at $115.
Is free internet provided in the Wahpeton hotel?
Yes, the Wahpeton hotel provides Wi Fi throughout the property free.
Is there a cancellation fee charged by the hotel?
The hotel offers free cancellation.